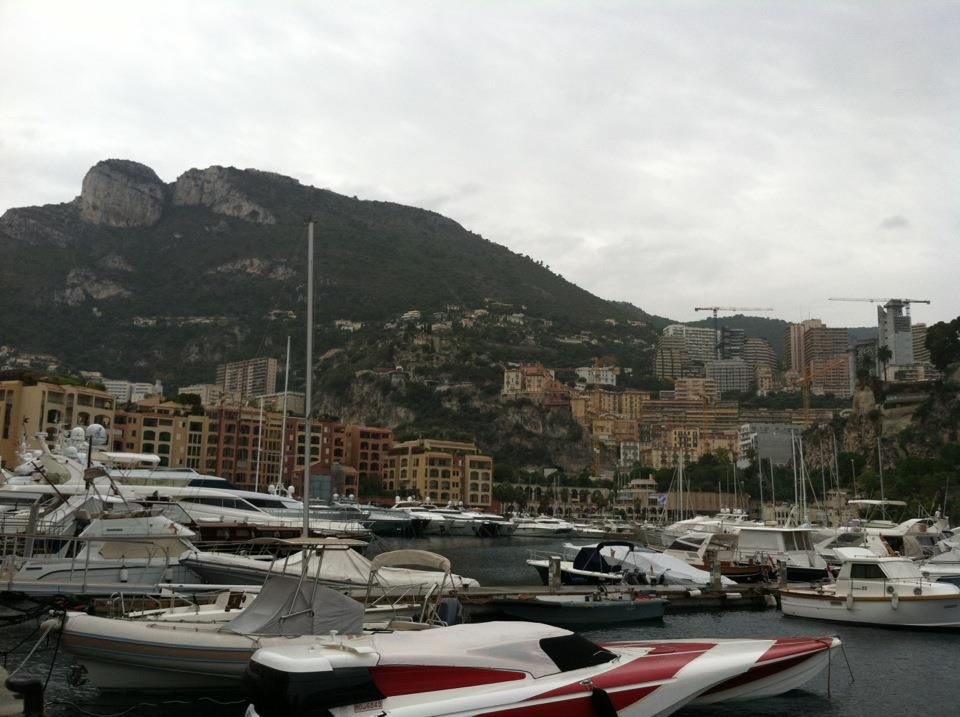 Port de Fontvielle
I just returned from a trip to Europe where I visited six countries in a little over a week and half. Technically speaking one of them is only a city state. From the picture you can probably guess that I didn't visit the Vatican, rather I am talking about Monaco.
Clearly going to Monaco or anywhere in Europe is not something that entirely sucks. I have been an F1 fan for most of my life and my favorite race every year is the Monaco Grand Prix. It is a place that holds an almost mystical aura for an F1 tragic such as myself. It was my first trip and I found it absolutely gorgeous. Even with poor weather, I was still blown away by the beauty of the Côte d'Azur while driving from Nice to the center of Monaco. There is also still a huge novelty factor for me from being able to jump on the Eurostar in London and travel by train to Paris. As a country boy who grew up in a small town, I still remember looking at maps and marveling at how huge the world is and thinking I would be lucky to see Australia, let alone live and travel internationally. Catching the Eurostar is a long way from my childhood trips to Dubbo on the XPT.

As great and exotic as it sounds on the surface to go on a work funded tour taking in London, Paris, Oslo, Warsaw, Madrid and Monaco, I really struggled to enjoy this trip. What I find hard to rationalize with my job is that I really enjoy what I do and I relish the opportunity to spend time with customers, however the travel is incredibly exhausting. The first misconception that people have when I tell them about my travels is that these trips are some sort of junket. I long for a job where I get paid to go on these trips and have the ability to sit back, relax and enjoy the scenery. Typically I am in meetings all day with the customer and my evenings are taken up by catching up with my day job and phone calls. I am also spending very little time in each location. Monaco was only a day trip. I didn't even have time to put in a hot lap around the Grand Prix circuit. The company is expecting a ROI on each trip, otherwise there is no point in going, so it is important to squeeze in as much customer face time as possible.
The other issue is generally around the ability to be well rested enough to actually feel like myself. My previous job involved a significant amount of travel, to the point where I was beginning to question the wisdom of being based in Silicon Valley. I stepped off that meat grinder after a trip where I did 35 hours of international plane travel in three days, all in economy! I flew over 200,000 miles in the twelve months prior to quitting. The travel requirements in my new role are now a lot less, despite still having an international focus. In fact this was my first international trip in nearly four months, which was an unheard of amount of time to be home previously. So I actually approached this trip with more optimism than I may have in the past given the long break. This enthusiasm was aided by the fact that I finally achieved top tier frequent flyer status with OneWorld, meaning I get to use first class lounges. It expires in July and I have no chance of flying enough to maintain the status, so best to make the most of it now. Unfortunately it would appear that in the time I stopped traveling, my mojo for recovering from long haul flights has gone missing. I slept no more than three hours a night the entire time I was in Europe. I spent most of my days feeling like a highly caffeinated zombie, attempting to concentrate on meetings, (or appear to concentrate), some conducted entirely in French. Two nights was the longest spent in any one hotel, so not being able to unpack and settle in, combined with some very uncomfortable hotel beds, did not help the situation. On both flights I had someone sitting next to me, (a subject for a later blog), so did not get much rest in the air. I slept for 14 hours when I got home, to provide some context to how much this trip took out of me.
So perhaps these are first world problems I am complaining about and right now you are playing the world's smallest violin for me. As the old adage goes, if you walk a mile in my shoes, you will be a mile away and have my shoes. Put another way by the great philosopher Nicole Scherzinger, be careful what you wish for 'cause you might just get it.